Back to overview
How Can Europe Help the Next Phase of the Summit for Democracy?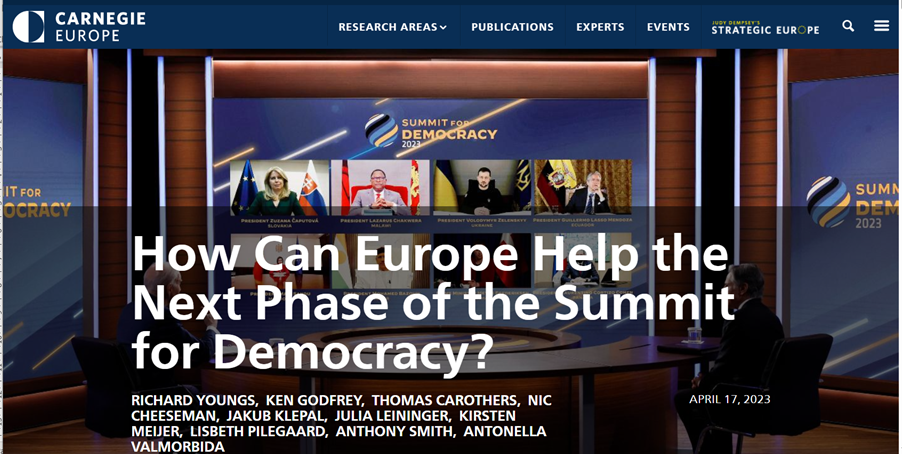 By Richard Youngs and Ken Godfrey
With contributions from Thomas Carothers, Nic Cheeseman, Jakub Klepal, Julia Leininger, Kirsten Meijer, Lisbeth Pilegaard, Anthony Smith, Antonella Valmorbida
Leaders agreed that the Summit for Democracy process will continue to improve coordination among democracies. If the EU is to prove its credibility and effectiveness, concrete actions are needed in the months ahead.
The second Summit for Democracy was held over three days in the last week of March. The event did not attract much media attention and some observers judged the outcomes to be modest. Yet, the government leaders involved agreed that the summit process will continue and promised to explore ways of deepening coordination between democracies.
South Korea will host a third summit, opening the prospect of more global buy-in for what has been up to now a heavily U.S.-led process. European governments have engaged in the Summit for Democracy, although in most cases so far without according it high-level priority. The summit process could turn into an important strategic platform in the defense.
uropean governments still need to decide what they want from the initiative and, more generally, what importance to attach to international democratic coordination. Given all this, we asked noted experts and democracy practitioners for their thoughts on how Europe should position itself in relation to the Summit for Democracy and how it should seek to influence the evolution of the process. of global democratic norms or it could atrophy into irrelevance.
Read the full article on the Carnegie website