Back to overview
Summit for Democracy Newsletter: October 2023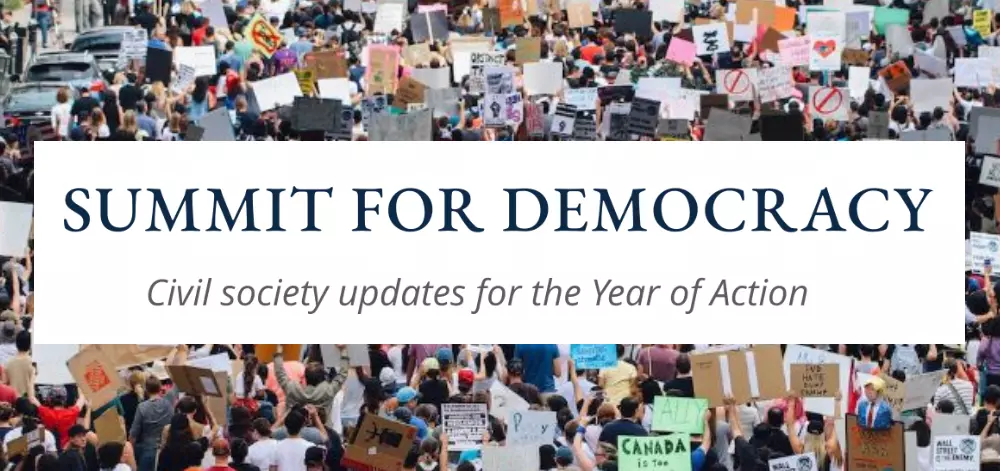 Dear Summit for Democracy Friends,

The third Summit for Democracy is scheduled for March 2024! It will focus on the theme "Democracy for Future Generations" with five subthemes, including technology, youth promotion, media, investment in future generations, and global partnerships. Read below for the latest S4D news and do not hesitate to reach out if you have any ideas or feedback at demsummit@accountabilitylab.org.

The Summit4Democracy.org newsletter is a joint initiative of the Global Democracy Coalition powered by Accountability Lab and International IDEA. This newsletter seeks to ensure that organizations involved in the Summit for Democracy and related processes are able to stay up-to-date on the activities, issues, and initiatives that emerged from those processes. Would you like to submit to the newsletter and the S4D News and Resource Portal? Use our form here.
---
Summit for Democracy 2024
The Government of Korea has released updates for the Summit for Democracy! Here is what we know so far.
Theme and subthemes: The third Summit's theme will be Democracy for Future Generations. The overarching theme will encompass five (preliminary) subthemes:
Technological advances, focussed on democracy, digitalisation and anti-corruption
Investment in future generations
Promotion of youth – in particular girls' – participation in democratic spaces
Media and empowerment of women in media
Domestic and global partnership for future generations, especially with the Global South
Summit Date and Format: The Summit will take place in March 2024. It will be a three-day event, including plenary sessions and meetings for other stakeholders. The plenary session will consist of 5 sessions with keynote speakers.
Dedicated Summit Website and Youth Engagement: the organizers have shared their plans to create and maintain a dedicated website for the Summit. The website will be created and maintained to facilitate communications about the Summit with the public and stakeholders, including by publishing reports and recommendations.
Elevated Role of Democracy Cohorts: another significant development is the increased prominence of Democracy Cohorts. The work of the Cohorts is essential and cooperation with key stakeholders is central to the process. The 16 Cohorts will be divided into 5 groups according to the above subthemes and in view of creating synergies between the cohorts. Each group will have its own discussions and there will be the expectation that each will produce a report with recommendations. These results are to be presented at the plenary session by Cohort representatives.
---
S4D Stakeholder Updates
---
S4D in the Media
---
Events and Publications
---
Relevant Tools and Resources
The Summit For Democracy.org newsletter is a joint output of the Global Democracy Coalition, powered by Accountability Lab and International IDEA.
Cover Photo: Photo by Alex Radelich on Unsplash
Copyright © 2023 Accountability Lab, All rights reserved.