Back to overview
International IDEA Survey for Civil Society on Priorities for the Summit for Democracy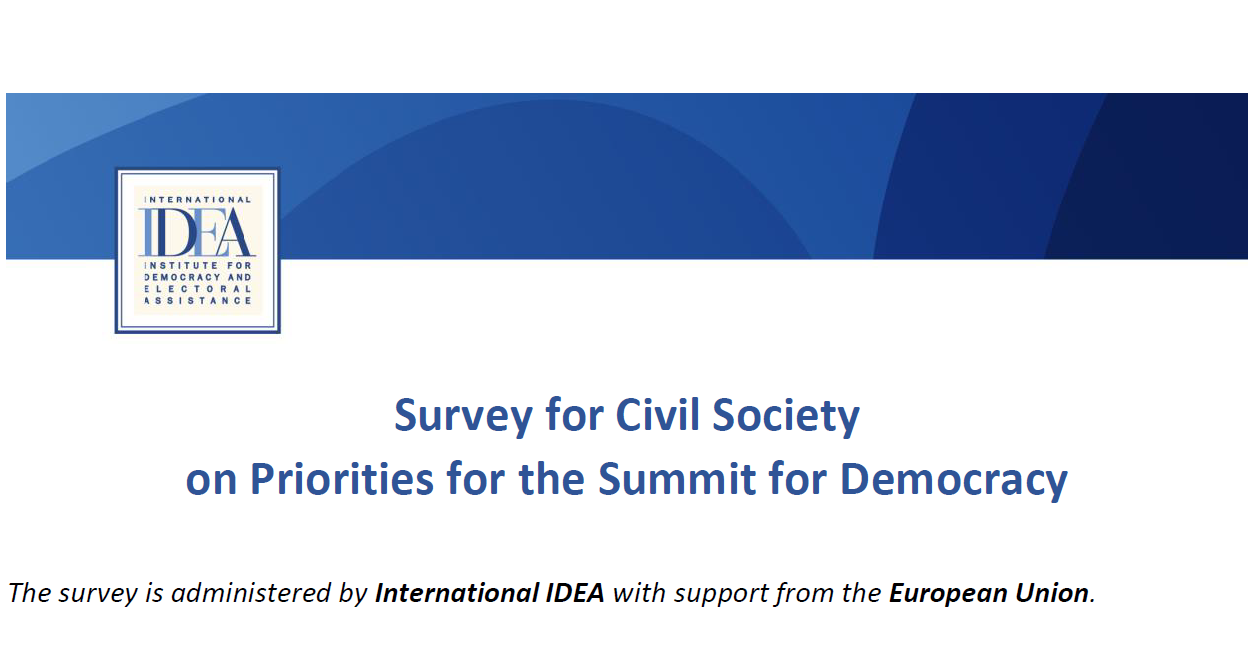 The survey is administered by International IDEA with support from the European Union.
In December 2021, the US Government will be hosting the Summit for Democracy. A very timely effort, that aims to set an agenda for democratic renewal and, though a collective action, create new avenues to protect democracy, which has been under stress in the last decade and which the pandemic has strained even further. International IDEA and the European Union are committed to these objectives and to fostering and facilitating the engagement and input from CSOs to the Summit.
International IDEA is implementing the project "Supporting Team Europe Democracy - Strengthening democracy evidence and communication around the Summit for Democracy", financed by the EU. The project aims to foster and facilitate civil society and multi-stakeholder engagement in the Summit for Democracy (convened by the United States Government) with pro-democracy organizations in Europe and across the world, as inputs to Team Europe Democracy engagement in the Summit. The project will create knowledge resources and data to aid monitoring of Summit commitments and facilitate dialogue on issues of relevance to the Summit.
As part of this project, this survey aims to gather views of stakeholders, including of civil society in Europe and beyond on the priorities of the Summit in 2021 and ahead of the 2022 Year of Action and second Summit. It will also seek to provide an initial inventory of activities that are planned for the year of Action 2022, to facilitate coordination among different organizations and for initiatives such as Global Democracy Coalition Forum (https://www.globaldemocracycoalition.org) and others that aim to bring organizations together during the year of Action. A follow up survey will be conducted in 2022. The survey results will be a public resource that can be used for advocacy purposes, for research and for planning of activities.