Back to overview
Rethinking Democracy: Club de Madrid Annual Policy Dialogue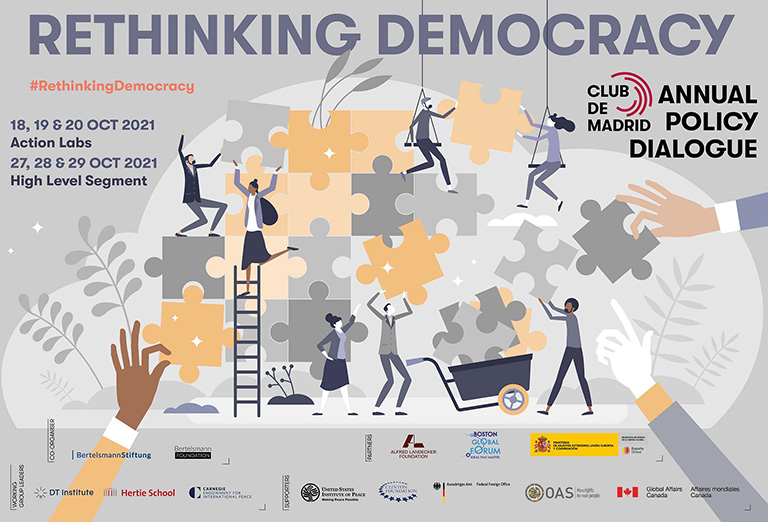 Between 18 and 20 October, Club de Madrid organised a series of Action Labs, and between 27 and 29 October, a number of high-level sessions. The event was organised in response to rising global authoritarianism, bringing together members from the Club de Madrid, with senior experts from government, academia, business and civil society from around the globe to produce actionable policy recommendations to set the course of democratic renewal and further targeted advocacy in 2022. Youth contributions were also included as outputs of the event in briefs available on the Club de Madrid website.
Action Labs
Three Action Labs were organised on the following topics:
The New Information Ecosystem: Offering principles and values that can guide action in balancing all issues involved in the information ecosystem of the 21st Century.
Responsible Leadership and Democracy: Laying out the traits and style of the leadership we need to address current and future challenges in an inclusive manner.
Resilient Democracies, Resilient Institutions: Exploring the question of how we can strengthen democratic institutions and improve sustainable practices that can withstand through crisis situations.
High-Level Dialogue
The three-day High-Level Dialogue gathered former Heads of State and Government along with representatives of international organizations and experts from government institutions, academia, civil society and the private sector. A detailed list of speakers can be found on the Club de Madrid website.
Recordings of the Action Labs and different High-Level Dialogues are available on the Club de Madrid website. Click above to watch the Action Lab on Resilient Democracies.
Event date
18 October 2021
Organising parties