< Back to overview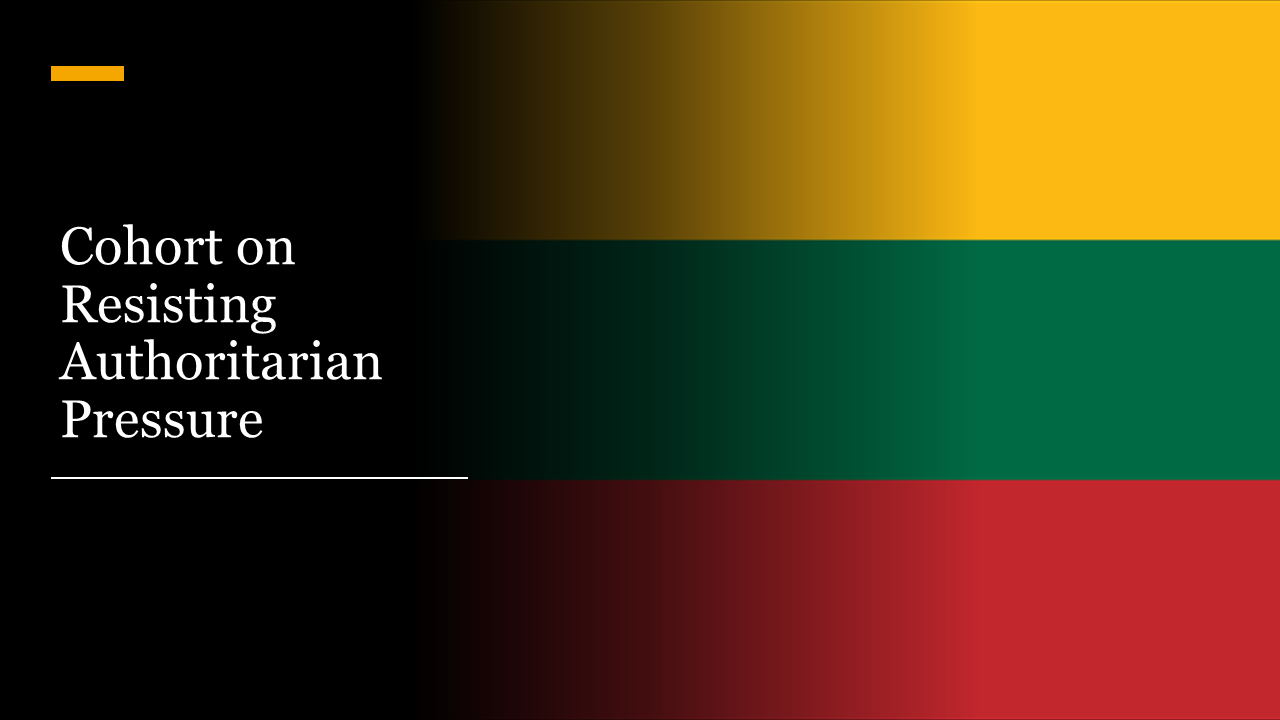 Resisting Authoritarian Pressure
The Cohort on Resisting Authoritarian Pressure was established to build resilience to authoritarian coercion and offer a hand to democrats and human rights defenders from non-democracies. The Cohort was officially announced during the second Future of Democracy Forum in Vilnius on 10 November 2022, which was convened in response to the growing trends of democratic backsliding and authoritarian entrenchment.

The cohort was established in response to the growing threat to democratic values and the rules-based international order that has developed over the past decade. According to Freedom House's annual Freedom in the World report, we are in the 16th consecutive year of democratic decline. International IDEA's Global State of Democracy reports similarly grim figures: the number of countries globally moving towards authoritarianism is more than double the number moving towards democracy. Autocrats internationally increasingly learn from one another, replicating the same tactics, and support each other against international condemnation. These dynamics have contributed to a growth of autocratic repression against democracy and human rights defenders, whom democracies should better support.

The expected outcomes from this cohort are to implement a set of deliverables within the four areas of: releasing political prisoners, protecting democratic activists fleeing authoritarian regimes, countering transnational repression and building resilience to economic coercion by authoritarian regimes.

The cohort identified a range of activities and deliverables to realise their priorities, including the development of various written products such as briefings, memos, and best practices for shielding human rights defenders. The cohort has also engaged in advocacy activities and a diplomatic campaign to raise awareness on political imprisonment and transnational repression. Multilateral actions have also been pursued, such as strengthening cross-border and cross-sectoral cooperation to protect democracy activists, as well as introducing trade and investments restrictions for regimes that engage in economic coercion. The cohort will engage with civil society to develop training materials on how to document and respond to transnational repression, and it seeks to establish a civil society working group to coordinate advocacy efforts on transnational repression. The cohort will also support efforts by other cohorts working on critical aspects of restricting autocrats from building influence in democracies, such as media freedom, information integrity and financial transparency.
.
Until 31 March 2023, the Cohort is inviting organisations to sign onto its 'Civil Society Declaration of Principles', which will serve as a complement to the anticipated government-led Declaration of Principles that will be unveiled during the Summit. Find the text and sign onto the declaration here. The declaration can also be found here on the Freedom House website, and has as of 30 March 2023 been endorsed by the governments of Australia, Germany, Kosovo, Latvia, Lithuania, Slovakia and the United States. Signatories to the declaration acknowledge transnational repression as an issue requiring urgent attention and response, and commit to working to address impunity, build resilience, and protect the vulnerable. More information on the Cohort, its declaration of principles and a full list of organisational signatories to the declaration can be found here.

Relevant documents released by the cohort can be found in the links on the righthand side of the page, and any public events are listed below. We invite you to use the contact form on this portal if you have any contributions or corrections regarding this cohort.
Co leads
Lithuania

Freedom House

Alliance of Democracies
Documents
| Title | Date | Description | Link |
| --- | --- | --- | --- |
| Future of Democracy Forum | 09/11/22 | The forum brought together a community of supporters of the democratic world and democracy, who discussed the greatest challenges and possible actions to address the growing pressure of authoritarian regimes. | External Link |
| Responses to China's Economic Coercion | 06/02/23 | Conversation with Malcolm Turnbull and Anders Fogh Rasmussen on experiences with China. | External Link |