< Back to overview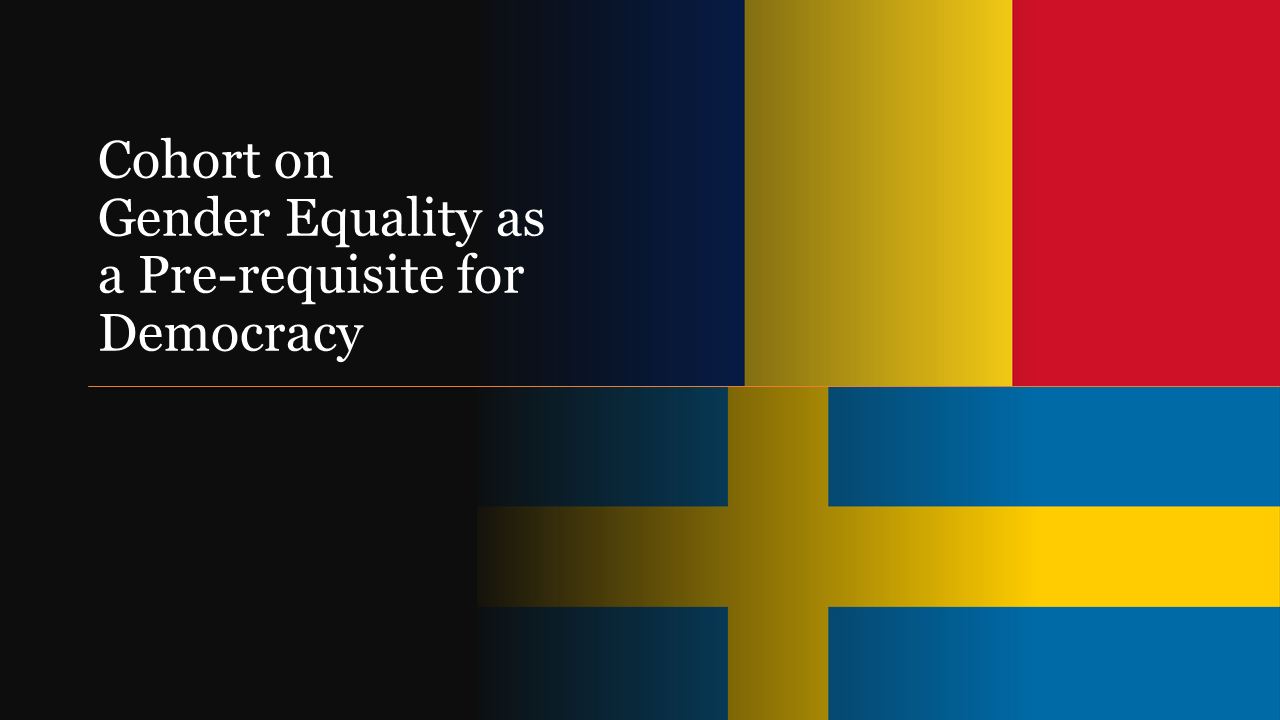 Gender equality as a pre-requisite for democracy
The Cohort on Gender equality as a pre-requisite for democracy was established to highlight and promote the connection between gender equality and democracy and to develop policy recommendations to bolster women's participation in and contribution to democracy. The intent to launch the Cohort was announced at the first Summit with the high-level initiative on gender equality and women's empowerment as the basis for democratic progress, co-hosted by Swedish Prime Minister Magdalena Andersson and US Trade Representative Katherine Tai.
Following the second Summit for Democracy in 2023, the Cohort released the results of its efforts over the Year of Action. The Cohort conducted four regional dialogues between 7 and 14 December 2022, which focused on barriers for reforming democratic processes, institutions and legal frameworks, as well as sociocultural practices that prevent gender equality and women's political empowerment. The Cohort released a statement and roadmap of recommendations as well as a series of briefs on the following key topics for which gender equality is especially important:
Free, Fair and Transparent Elections
Anti-Corruption
Youth
Information and Communications Technologies (ICTs)
Media Freedom

Research shows that the ability of women and girls to participate fully and equally in economic, social and political life is central to ensuring healthy, stable, prosperous and inclusive democracies. Their under-representation in positions of power and decision-making processes remains a serious challenge that undermines the legitimacy of any country's democratic ideals. Inequality in gender representation was mirrored at the Summit for Democracy: of the 98 official statements made by countries, only 11 were made by women - 12 when taking into account the statement by the European Commission.

The expected outcomes are to produce a statement of commitments and policy recommendations for the Summit for Democracy. The recommendations will look at the issues of inclusion (economic, social and political), justice (formal laws and informal discrimination) and security (at individual, community and societal levels). In addition, the Cohort will serve as a global platform to call attention to the importance of gender equality in rebuilding societies after crisis and conflict. It is crucial that states address the harmful and rigid gender norms that hinder the full participation and representation of women in building innovative and resilient democracies. The recommendations were issued on 24 March 2023 and can be found in the documents on the right-hand side of the page. Recommendations were made relevant to each of the topics covered at the regional Summits.

Relevant documents released by the cohort can be found in the links on the righthand side of the page, and any public events are listed below. We invite you to use the contact form on this portal if you have any contributions or corrections regarding this cohort.
Co leads
Romania

Sweden

International IDEA

Georgetown University's Institute for Women, Peace & Security
Documents
| Title | Date | Description | Link |
| --- | --- | --- | --- |
| Regional Dialogues | 7-14/12/22 | Collecting inputs upon which to identify key thematic areas and issues to help in identifying specific policy recommendations. | External Link |
| Gender Equality as a Prerequisite for Democracy UN CSW | 09/03/23 | To provide an overview of key recommendations for and challenges to gender equality; clarify the importance of and key strategies to advance gender equality for democracy; and to discuss good practices and lessons learned. | External Link |
| Post-Summit Event | 23/05/23 | To sustain the efforts to sustain gender equality on the global agenda for democracy. The event highlighted the importance and good practices for advancing gender equality as a prerequisite for democracy in the post-Summit context. | External Link |