< Back to overview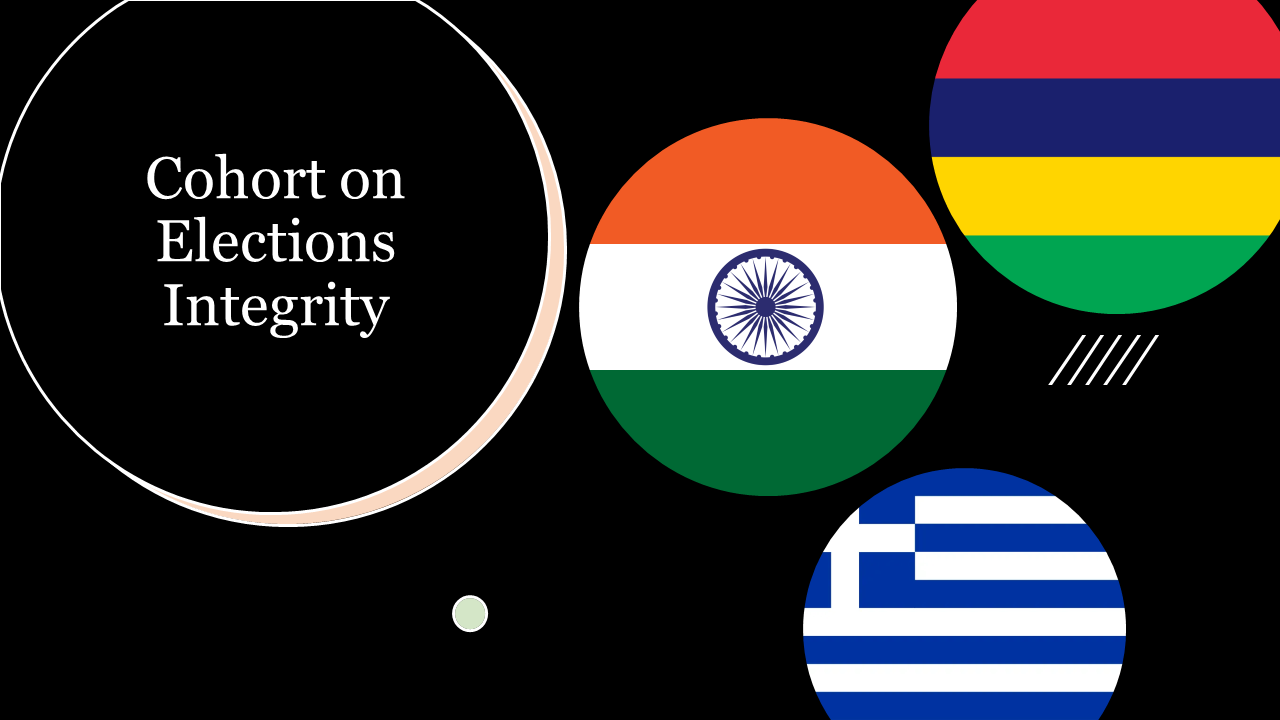 Elections Integrity
The Cohort on Elections Integrity was established to provide training and capacity building programmes to Election Management Bodies (EMBs) across the world and technical consultancy as per needs of other EMBs. It was officially launched at a two-day conference on 31 October and 1 November 2022 on 'the Role, Framework and Capacity of Election Management Bodies'. The event included sessions on the EMB capacity and the current and future challenges faced by EMBs, and recognised the need for mutual cooperation and continuous engagement amidst emerging issues caused by digital technologies.
The Cohort has announced that it intends to continue past the second Summit, and to this end Chief Election Commissioner Rajiv Kumar spoke on India's efforts to support electoral integrity, highlighting its work using the platform provided by the Cohort, at an interaction with the 2022 batch of Indian Foreign Service Officer Trainees. More information on the work of the Cohort can be found on the IFES website here.

The running of elections in a free, fair and trustworthy manner is integral to even the most basic of democratic functioning. Threats to electoral integrity can open the door to greater issues with fraud, money in politics and malign foreign influence. Moreover, existing but highly manipulated electoral systems are one of the tools used by modern day autocrats to legitimise their power. For representatives to be democratically elected, it is necessary to have an electoral system in place that can guarantee universal suffrage—an equal vote for every citizen, free from undue influence.

The expected outcome from this cohort is to lay the groundwork for numerous additional dialogues and institutionalised mechanisms to collaborate on contextual challenges and opportunities. To achieve their objective and desired outcomes, the cohort has organised three conferences to help provide training and capacity-building to EMBs globally, with the possibility of extending help to technical consultancy per the needs of other EMBs. During the second Summit, IFES released a Q&A on the activities and goals of the Cohort during the Year of Action.

Relevant documents released by the cohort can be found in the links on the righthand side of the page, and any public events are listed below. We invite you to use the contact form on this portal if you have any contributions or corrections regarding this cohort.
| Title | Date | Description | Link |
| --- | --- | --- | --- |
| Conference on 'Role, framework and capacity of election management bodies' | 31/10/22 | Sessions included on EMB capacity and the current and future challenges faced by EMBs. | External Link |
| Conference on 'Use of Technology and Elections Integrity' | 23/01/23 | Sessions included on voting and counting methodologies and grievance redressal, technology solutions for inclusive elections, and technology as an enabler and challenges of digital space. | External Link |
| Conference on 'Inclusive Elections and Elections Integrity' | 09/03/23 | To discuss methods to improve the inclusiveness of elections and close the work of the Cohort. | External Link |
| Launch of the Global Network for Securing Electoral Integrity (GNSEI) | 21/03/23 | To launch GNSEI, bringing together international actors to establish a platform to cooperate on developing, advancing, and promoting adherence to norms and guiding principles that address emerging and long-term threats to electoral integrity. | External link |
| Innovative Strategies to Combat Threats to Election Integrity | 27/03/2023 | To highlight efforts to combat threats to election integrity in Zambia and worldwide. | External Link |