< Back to overview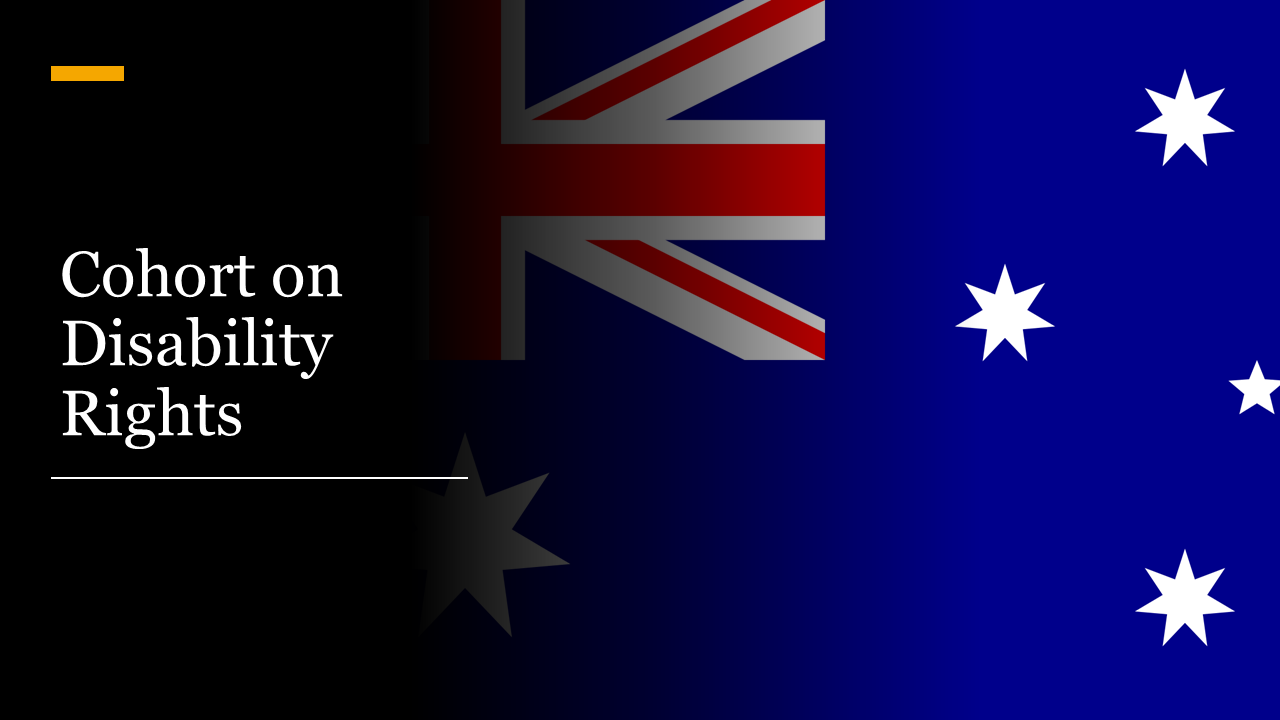 Disability Rights
The Cohort on Disability Rights was established to support people with disabilities in participating in government institutions, public policy and legislation, providing the basis for promoting equality in all aspects of society by breaking down social stigmas and increasing accountability. Disability rights are important for democracy because while one out of every seven people in the world has a disability, the interests of people with disabilities remain under-represented in public life and political decision making. Inclusive participation of people with disabilities is key for promoting equality in all aspects of society, reducing stigmatisation and improving accessibility and accountability.
With its event on Disability-Inclusive Democracy on 26 July 2022, it issued 29 sample commitments. The Cohort also held a virtual session for the second Summit on 22 March 2023, a recording of the event and summary of proceedings is available here. The Cohort intends to continue its activities past the second Summit and is inviting any interested government, civil society, private sector and academic members to get in touch. More information on the Cohort and its activities is available on the IFES website here. The Cohort has released new intended outcomes, structuring itself into three groups to support a number of indicative actions targeted towards three objectives.
The Cohort's objectives are to Support meaningful engagement of persons with disabilities and their representative organizations in democracy, governance, and public policy; Promote access to voting, political participation, and civic engagement locally and globally; and Mainstream disability rights across all areas of public policy.
The Cohort is structured into three groups:
A general group including all CSOs, governments, international organizations, private sector partners, and other types of organizations who wish to advance the goals of the Cohort by making at least one commitment that contributes toward disability-inclusive democracy.
A core group comprising those organizations that wish to involve themselves more closely to form an advisory committee of the Cohort. Involved organizations will commit themselves to implementing at least one event or activity that contributes toward disability-inclusive democracy.
A leadership group consisting of Australia's Department of Foreign Affairs and Trade (DFAT) and the International Foundation for Electoral Systems (IFES). DFAT and IFES commit to coordinating the cohort and funding, implementing, or contributing to at least one major program that contributes toward disability-inclusive democracy as outlined in the objectives.
The Actions are structured under the headings 'Influencing the Summit for Democracy Process and Other Summit Stakeholders', through which the Cohort seeks to support Disability Rights' inclusion in participating governments' efforts, and 'Promoting Disability-Inclusion', through which the Cohort seeks to support the topic more broadly on a global scale.
Expected outcomes include:
Launch a Global Action on Disability (GLAD) Network working group on Disability-Inclusive Democracy.
Governments make concrete commitments to increase access to civic and political life for persons with disabilities. The Cohort will create a list of sample commitments by collating best practices of governments and civil society members to promote increased participation of persons with disabilities in political and public life.
Disability-inclusive democracy resources, toolkits and good practice examples are developed and disseminated for use by governments, civil society, the private sector, academia, and the media. This will include a handbook or election management bodies on how to develop disability inclusion policies and guidance on how disability inclusive election technology is developed.
During the Year of Action, the expected outcome from this cohort were to release a series of disability-inclusive sample commitments for EMBs, CSOs, legislatures and parties that were suggested by disability rights and democracy advocates during a series of listening sessions related to voting, elections and civic engagement, to feed into commitments states could make at the second Summit. During the second Summit, IFES released a Q&A on the Cohort's activities and goals during the Year of Action.
Relevant documents released by the cohort can be found in the links on the righthand side of the page, and any public events are listed below. We invite you to use the contact form on this portal if you have any contributions or corrections regarding this cohort.
Co leads
Australia

International Foundation for Electoral Systems
| Title | Date | Description | Link |
| --- | --- | --- | --- |
| Disability-Inclusive Democracy: Building Participatory Societies | 13/06/22 | To explore innovative approaches to and challenges for promoting disability-inclusive democracy globally. | External Link |
| Disability Rights Cohort Virtual Session | 22-23/03/23 | To provide more details on the Summit for Democracy, what the Disability Rights Cohort proposes to achieve, and how governments and civil society organizations can engage going forward. | External Link |
| Summit for Democracy Disability Rights Cohort Concept Note | | Disability Rights Cohort Concept Note | |